Digital Signage Projects and Case Studies
« Back
---
The digital signs display important updates, birthday and anniversary messages, and show current employee engagement initiatives. Press Release – updated: Nov 7, 2018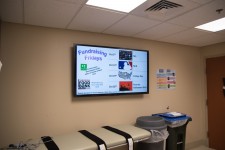 STERLING, Va., November 7, 2018 (Newswire.com) – Mvix, a leading provider of content-rich digital signage software and solutions, has implemented a digital signage network at the Encompass Health Fredericksburg, Virginia, rehab hospital. The 6 networked displays are for employee communication.
Powered by Mvix, the signs display important employee and company updates, share birthday and anniversary messages, and showcase current employee engagement initiatives.
Formerly known as the HealthSouth Corporation, Encompass Health is one of the country's largest providers of post-acute healthcare services. They offer both facility-based and home-based post-acute services in 36 states and Puerto Rico through their network of inpatient rehabilitation hospitals, home health agencies and hospice agencies.