Digital Signage Projects and Case Studies
« Back
---
Trenton-Mercer Airport implemented Mvix Digital Signage software through Creative Marketing Alliance (CMA) to display flight information (FIDS) and hyper-target travelers and consumers.
Press Release – updated: May 21, 2019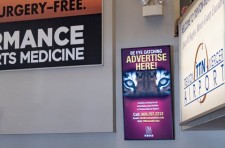 STERLING, Va., May 21, 2019 (Newswire.com) – ​​​​​​Mvix Implements Digital Signage Software at Trenton-Mercer Airport to Display Flight Information and Hyper-Target Travelers
Mvix, a leading provider of content-rich digital signage software and solutions, announced today the implementation of its digital signage software at the Trenton-Mercer Airport. It displays flight information (FIDS), in addition to hyper-targeting consumer and business travelers. Trenton-Mercer Airport has been providing a convenient, safe mode of transit to the Mercer County Region for more than 80 years.
Mvix is executing its software through CMA, a full-service communications, marketing and association management firm, to manage the dynamically displayed flights real-time status. Also, to manage and monitor content remotely.